LBTT Paper version NOW available
Land and Buildings Transaction Tax printed forms
Click here to register for an no obligation, FREE of charge "LBTT e-Paper" account with FormEvo.
If you would like us to keep you up-to-date about LBTT generally, via email please in addition to registering for an account above, click here.

Land and Buildings Transaction Tax
Land and Buildings Transaction Tax (LBTT) is the property tax that comes into force in Scotland on 1 April 2015. The result of devolution, LBTT is prescribed by legislation (Land and Buildings Transaction Tax (Scotland) Act 2014) and is a tax applied to residential and commercial land and buildings transactions (including commercial purchases and commercial leases) where a chargeable interest is acquired.
LBTT will replace the UK property tax known as Stamp Duty Land Tax (SDLT) in Scotland only. LBTT will usually be paid by the solicitor on behalf of the buyer, as part of the administrative process to complete the conveyancing transaction, although final responsibility lies with the buyer. An LBTT return must be submitted and payment of the LBTT due made to Revenue Scotland before the Keeper of the Registers of Scotland can proceed with registration of title.
LBTT is charged at the appropriate rate on the amount of the chargeable consideration within the relevant bands. See the chart below for a comparison with current SDLT rates:-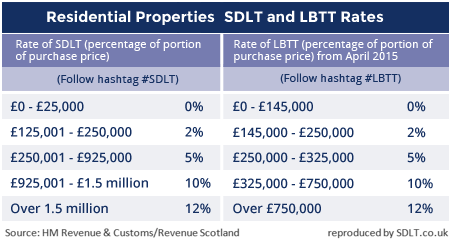 When Land and Buildings Transaction Tax applies (Transitional rules)
A transaction with an effective date on or after 1 April 2015 will be subject to Land and Buildings Transaction Tax (LBTT) to the extent that it includes interests in land situated in Scotland, provided the acquisition of such interests in land is not subject to SDLT under the transitional rules. Please click here for transitional guidance.